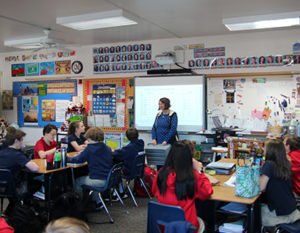 The Middle School at St. Clare School is comprised of the sixth, seventh, and eighth grade students. All students in the Middle School are one-to-one with a tablet that is used for all academic areas. The Middle School students enjoy dedicated professional teachers who teach a multi-faceted curriculum while respecting the diverse learning needs of each child. Along with departmentalized on-level and accelerated math, the St. Clare Middle School also offers specialized instructors in music, library, physical education and health, and our award-winning art program. The St. Clare School Middle School is proud that its graduates are enthusiastically accepted to local Catholic high schools.
Sixth Grade
The Sixth Grade homeroom teacher is Mrs. Cathy Wade. Along with the exciting opportunity to take on more responsibility as a middle schooler, students in Sixth Grade enjoy an Outdoor School experience in the fall of each year. Sixth grade students focus their community service on environmental stewardship at a neighborhood park.
Seventh Grade
The Seventh Grade homeroom teacher is Mrs. Paige Sturges. Our seventh grade students participate in many areas of our school in addition to academics. They are members of Student Council, Drama and Book Clubs, as well as the Peer Mediation Team. Seventh graders focus their community service on collecting books through a book drive for the Children's Book Bank.
Eighth Grade
The Eighth Grade homeroom teacher is Mrs. Cathy Kollars. Eighth grade students are the leaders of our school and accept many important roles including Family Group leaders, Eucharistic Ministers, and Peer Mediators. In addition to preparing for the high school experience, eighth graders complete ten hours of service outside of the school tied to Catholic Social Teaching.
Additional Academics