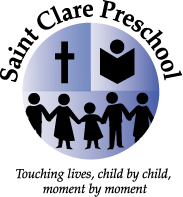 St. Clare Preschool is "a Catholic, early childhood education program that fosters joy, curiosity, confidence and spiritual connection in a welcoming community," serving children ages 6 weeks to 6 years old. The preschool is one of three ministries that comprise the St. Clare community along with St. Clare School and St. Clare Parish.
St. Clare Preschool was established in 1997 and is the largest parish-based preschool in the state. Currently, St. Clare Preschool enrolls 68 children. Within the preschool, there are five classrooms (Baby, Toddler, Trainer, Preschool, and Pre-K), and 10 full-time teachers.
Priority will be given to applicants in the following order:
Returning St. Clare preschool students
Siblings of current St. Clare students
St. Clare Parish students/families (registered in the parish)
New students/families registered in other Catholic parishes
Those other than Catholic students/families
The preschool director and pastor make all final decisions pertaining to student admissions.
To learn more about their program and availability, please contact the preschool office directly either by calling 503-244-5458 and/or emailing Nancy Melzer, preschool director, at [email protected] and Jeanne Raffety, preschool office manager, at [email protected].