I'm Mrs. Krystal Huynh, the letter-outfit-wearing kindergarten teacher! This is my seventh year as a part of the St. Clare community, but I'm in my ninth year teaching kindergarten.  I knew I wanted to be a teacher in the fifth grade! Luckily for me, I get to spend my day learning with a group of high-energy, inquisitive kindergarten students.  I earned both my undergrad degree and Masters in Education through University of Portland with endorsements in Reading, Math, ESOL, and Special Education.  Go Pilots!
Outside of school, I enjoy spending time with my husband Phil, one-year-old daughter Kaleigh, and our pup Eevee.  You'll catch me at the gym lifting weights or going on hikes to stay active.  I need to make sure I can spend many more years running after Miss Kaleigh!
Kindergarten Curriculum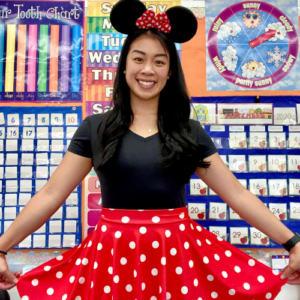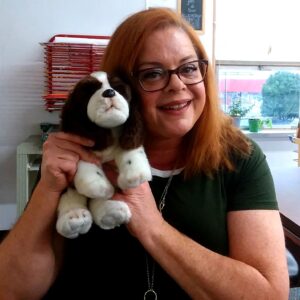 INSTRUCTIONAL ASSISTANT
I'm Mrs. Michelle Innes the kindergarten instructional assistant. This is my third year at St. Clare and my eleventh year as an instructional assistant. I previously worked at Holy Trinity in kindergarten, first grade and Pre-K. I really enjoy working with the kindergarteners – they are so full of joy, love and energy!
My husband and I have two beautiful daughters Kaelyn and Emma, a dog, Orion and a cat, Castiel. Kaelyn is a chef and Emma is a freshman at Willamette University. When I am not working I love reading, knitting and baking. My favorite thing to bake is cupcakes!  
I love the St. Clare community.  It is so supportive and welcoming and I look forward to coming to work everyday.
Emily Humm joined the St. Clare faculty full-time in 2022. Prior to joining the St. Clare, Mrs. Humm had been the reading and math learning support teacher at St. Luke for the past five years. In 2021, she served as a part-time learning support team member at St. Clare. She previously taught 2nd grade at St. Luke for five years before taking a break from teaching to be home with her children while they were young. Mrs. Humm graduated from the University of Oregon with an undergraduate degree in Family and Human Services and a Masters of Arts in Teaching. Mrs. Humm has three children who all attend St. Clare. Mrs. Humm spends her free time enjoying traveling with her family, walking her dog Penny, reading, and cheering on her kids at their various sports and activities. Mrs. Humm is passionate about helping all students feel successful, safe, and supported at school.
First Grade Curriculum
INSTRUCTIONAL ASSISTANT
I'm Kathi Austin and this is my first year here at St. Clare School. I received my early childhood teaching degree from Western Michigan University. I taught kindergarten and first grade in the Beaverton School District for 7 years. My main focus the last 15 years has been on my own 3 children, the youngest is now in high school and the oldest attends the University of Oregon. On the weekends, I enjoy spending time with my family, baking cookies and walking my dog Cash.
Hi! I'm Jessica Montgomery and I'm the second grade teacher at St. Clare! This is my fifth year teaching at St. Clare, but I've been a member of the parish for many years. I have two daughters who went through the St. Clare Preschool, and now Evelyn is in fifth grade with Miss Harmeyer and Avery is in second grade. Before teaching second grade here, I worked in social services supporting adults with developmental and intellectual disabilities. In the classroom, I strive to meet the needs of each student and their family, while building a love of learning!  Hands on learning is especially important to me, and we do that weekly through many means, including STEM activities.
Outside of school, some activities I enjoy are running, celebrating the seasons and holidays, working on crafts and painting with watercolors. My favorite thing to do is to spend time with my family!
I love teaching second grade, and look forward to each day with the students!   The St. Clare community is the best and I am so happy to be a part of it!
Second Grade Curriculum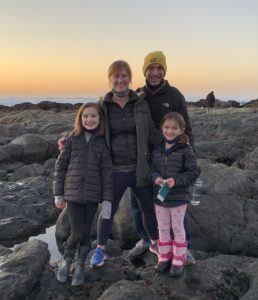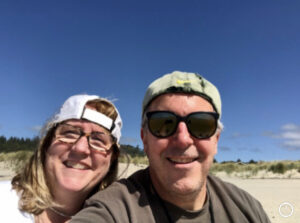 INSTRUCTIONAL ASSISTANT
My name is Lynnette Howes and I'm the instructional assistant for second grade. My boys Ben and Luke went to St. Clare School and I loved this community so much, I decided to work at the Before and After School Care (BASC) program when my youngest son, Luke was in third grade. When the opportunity opened for an instructional assistant position, I jumped at the chance. Seven years later, I'm still as excited as the first day I started. In my free time, I love hiking, camping and exploring Oregon. I'm also a citizen of the Cherokee Nation and sit on the Tribal Council for Mt. Hood Cherokees (MHC), which is a satellite community of the Cherokee Nation. MHC does a lot of volunteer work in Oregon's Native communities and learns about the history of our ancestors.
I'm Mrs. Tina Erickson, the turtle-loving third grade teacher! This is my fourteenth year teaching at St. Clare and my seventeenth year in education. I earned my undergraduate through Portland State University and a Masters in Teaching from Concordia University. I love the St. Clare community, especially my third graders!
I believe my role as an educator is to encourage and nurture a love for learning for all my students. I do this by creating a safe learning environment through classroom discussions, hands-on activities, and humor.
Outside of school, I love spending time with my husband Chris, daughter, Bella (17), son, Calvin (13), and our eleven year old Labradoodle, Kelly O'Kelly. I also love traveling, trying new recipes, and shopping.
3rd Grade Curriculum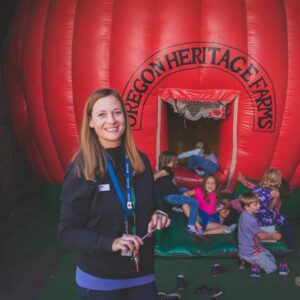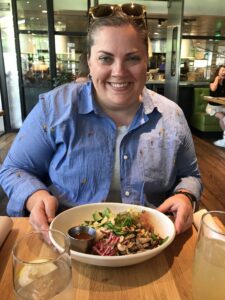 I'm Bethany MacNeur, but my students know me as Miss Mac. This is my eighteenth year teaching fourth grade at St. Clare. I started my teaching career at St. Francis in Roy where I taught first/second grades my first year of teaching before moving to fifth/sixth grades for my second year. I graduated from the University of Portland with my Bachelor of Arts in Elementary Education and got my Master of Arts in Teaching with a reading endorsement from Pacific University.
I absolutely love teaching fourth grade, and I'm grateful to be part of the St. Clare School community! Outside of school I enjoy spending time with my family and friends. I enjoy watching and playing sports. I coach basketball and softball at Jesuit High School. I love to travel and explore new places! I enjoy cooking for my friends and family, and I love trying new restaurants and different kinds of food.
4th Grade Curriculum
Hi! I'm Mary Ellen Harmeyer and I teach fifth grade. I have been teaching for twenty-nine years and this is my twenty-first year at St. Clare School. I attended the University of Pacific in Stockton, California for my undergraduate degree in British Literature and English. I worked in the private sector as a publications writer for a small company's national magazine before returning to school at St. Mary's College (Go Gaels!) to earn my teaching credential. I moved to Oregon 21 years ago and fell in love with the Northwest, finding my parish and job at St. Clare. I went back to school again to earn my Master of Arts in Teaching with a focus on curriculum development from Lewis & Clark College.
I spend every summer with my best friend and her family at a great cabin on the McKenzie River. I also love baking and cooking. I'm a huge fan of all cooking shows!
5th Grade Curriculum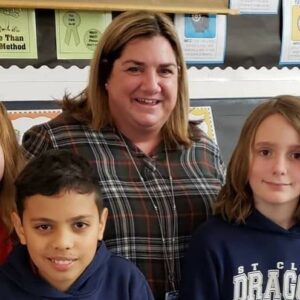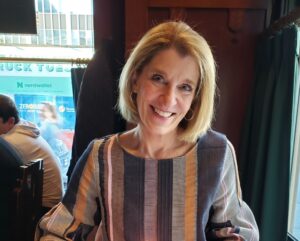 INSTRUCTIONAL ASSISTANT
I'm Kathleen Foesch and I joined the St. Clare staff as the fourth and fifth grade instructional assistant in 2020. I have worked for the Catholic school system on and off for the past six years. I have twins who graduated from St. Clare in 2013 and I'm very happy to be back. In my spare time I love to spend time with my family, walk my dog Finn, and volunteer for an educational foundation.
INSTRUCTIONAL ASSISTANT, FOURTH GRADE RELIGION, & SIXTH GRADE SECOND STEP
I'm Sr. Regina Namaleha and I am from Uganda in East Africa. I belong to the order of the sisters of Mary of Kakamega. I came to  the USA in 2010 for missionary work in the Diocese of Baker. I worked at St. Peter Catholic School for 10 years and my superiors transferred me to Portland to live with the other two sisters. This is my first year at St. Clare School. I have been a teacher for 23 years and a nun for 26 years. I taught both in Catholic schools and public schools. While in Uganda, I started a school of Children with Special Needs and was a principal for 5 years. I received my Bachelor's degree from Kyambogo University in Uganda and Masters of Education in Special Needs from Northern Arizona University. I enjoy singing, games, cooking, traveling and gardening.